Migrant numbers reaching Europe slides says UN
Comments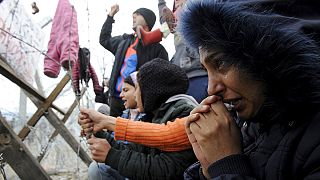 The number of migrants and refugees reaching Europe has dropped, according to the United Nations refugee agency.
UNHCR says an estimated 140,000 people came to Europe by sea in November, a decrease of some 80,000.
But the organisation says it is increasingly concerned by a rise in the numbers of women and children among those making it across.
"The numbers of women and children continue to climb, which is for us quite honestly something of a surprise, and we can only assume that this is a sense of the despair that families are going through," said Sarah Crowe, UN spokeswoman.
"When you take your whole family with you, it means you don't have schools for your children, you don't have proper shelter, you have no sense of what lies ahead, and it's an indication of closing the door behind you," she added.
The UN says the slowdown in arrivals may have something to do with changing climate conditions in the Aegean Sea but also a crackdown on smuggling by Turkish authorities.