Burkina Faso elects first new president in decades
Comments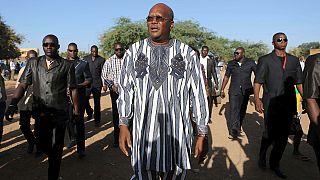 Roch Marc Kabore has been proclaimed the winner of Burkina Faso's presidential election. After nearly three decades of autocratic rule followed by a civil uprising, the West African nation has a new leader who hasn't come to power via a coup.
Kabore who won around 53% of votes, was prime minister under longtime leader Blaise Compaore who was toppled by an uprising in October 2014 after ruling for 27 years.
Sunday's vote was not the original election date. It was pushed back because of an abortive coup in September by military forces loyal to Compaore.
However the turnout was high in stark contrast to past elections that people felt were fixed as the incumbant always won.
Kabore's task will now be to promote economic growth in the landlocked country which produces gold and cotton but remains impoverished.
Kaboré Wins Burkina Faso Presidency – In Burkina Faso, former prime minister Roch Marc Christian Kaboré won Sun… https://t.co/JsZPEUr2zr

— WebStringers (@WebStringers) December 1, 2015