Africa at the forefront of climate change gets its day in Paris
Comments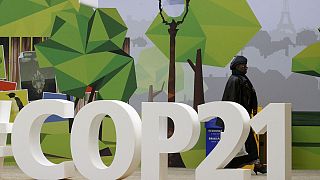 Today the Cop21 climate change conference in Paris presents Africa day.
The continent bears the brunt of climate change without contributing to its growth.
The World Bank has called for 'climate justice for Africa' and has unveiled an Africa Climate Business Plan to help poor countries cope with the cost of the phenomenon.==
"If climate trends continue, ~40% of land that's growing maize in Africa will be barren by 2030" – JimKim_WBG</a> <a href="https://twitter.com/hashtag/COP21?src=hash">#COP21</a> <a href="https://t.co/Ep6PxUKHFr">pic.twitter.com/Ep6PxUKHFr</a></p>&mdash; World Bank (WorldBank) November 30, 2015
==
UN Secretary General Ban Ki-moon highlighted some of Africa's climate related problems: "Africa is particularly vulnerable to the effects of climate change. Much of its economy depends on climate sensitive, natural resources, including rain-fed subsistence agriculture. Disruption in food and water supplies pose a serious risk not only for your economies, but also for political stability."
Africa has already been hit hard by climate change, experiencing droughts, rising sea levels and changing weather patterns.

W/o decisive action, #climatechange jeopardizes Africa's hard-won achievements. -@JimKim_WBGhttps://t.co/OKZWbEatN0pic.twitter.com/p0tsBr85ej

— World Bank (@WorldBank) November 30, 2015
The World Bank says that without climate resilience 43 million more people will be forced into extreme poverty.

$16,000,000,000 is needed to fight climate change here: https://t.co/xeb1ggeVrupic.twitter.com/VP6HDC3fyp

— CNBC (@CNBC) November 27, 2015