Pope makes final plea to heal Muslim-Christian rifts before leaving Africa
Comments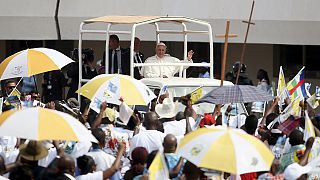 A packed sports stadium was the last venue for Pope Francis in the Central African Republic on Monday, a day on which he implored Christians and Muslims to end a spiral of hatred and bloodshed that has killed thousands in recent years.
Christians and Muslims are brothers and sisters
He celebrated one final Mass before the cheering crowd and took a lap around the stadium in the capital Bangui on the back of a modified Toyota pick-up, before heading to the airport and flying back to Rome.
Believers packed into the 20,000 seats or onto the football pitch, dancing and singing.
Leaving after the service, many thought his visit would make a difference.
"We would like him to stay with us for one more week…but we bless the Lord," enthused Bangui resident Iness Nguemale.
"I think this country will now begin to get itself in order thanks to the arrival of the Pope. I think everything will go well," added Savah Mennon, who also lives in the capital.
"Christians and Muslims are brothers and sisters," the Catholic leader said earlier at a mosque in Bangui.
Pope Francis speaks at Central African Republic mosque https://t.co/LgeWqjwh8Npic.twitter.com/3TULIse5NE

— TIME.com (@TIME) 30 Novembre 2015
Christians and Muslims are brothers and sisters, and we must act as such.

— Pope Francis (@Pontifex) November 30, 2015
Against the backdrop of inter-religious violence, interim head of state Catherine Samba-Panza has asked for forgiveness.
The Central African Republic was the Pope's first visit to a war zone and the last leg of a trip that also took him to Kenya and Uganda.
Africa and the Earth as a whole were on his mind as he was flown back to Europe – the pope warning that the
Paris climate conference is a 'now or never' moment, with the planet 'at the limits of suicide'.