Turkey returns body of Russian pilot whose warplane it shot down
Comments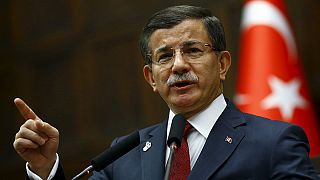 The body of a Russian pilot whose warplane was shot down by Turkey on the Syrian border was being returned home on Sunday.
He died after ethnic Turkmen rebels opened fire as both crew members parachuted to the ground when their plane was hit on Tuesday. Only the navigator survived. Another Russian was killed in a rescue attempt.
As tensions rise with Moscow, Turkey's Prime Minister Ahmet Davutoglu warned that because of different coalitions operating in Syria with differing objectives, further incidents could follow unless there is information sharing and coordination.
He told a news conference in Ankara: "One of our priorities is to maintain coordination and communication with Russia regarding their operations in Syria to avoid similar incidents in the future."
Turkey hopes return of pilot's body will ease tensions with Russia https://t.co/ve81LUCjFwpic.twitter.com/aMXqtwuVgc

— The Times of London (@thetimes) 29 Novembre 2015
But Moscow, which denies Ankara's claims the plane ever violated Turkish airspace, remains furious.
President Vladimir Putin's spokesman Dmitry Peskov said the Russian leader was "mobilised, fully mobilised, to the extent the circumstances demand. The circumstances are unprecedented. The gauntlet thrown down to Russia is unprecedented. So naturally the reaction is in line with this threat."
Just hours after Peskov was interviewed on Russian TV on Saturday, a decree imposing a raft of punitive economic sanctions against Turkey was published, underlining the depth of the Kremlin's anger.
Putin had earlier warned of "serious consequences" for what he described as a stab in the back administered by "the accomplices of terrorists".
Russia and Turkey have accused each other of aiding ISIL, but both say they are battling the militants who have taken swathes of land in Iraq and Syria.