Russia says second SU-24 crew member safe and back at base in Syria
Comments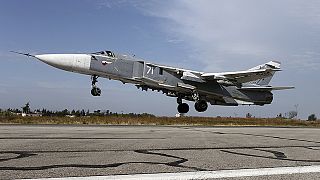 Russia's Defence Minister confirmed on Wednesday morning that the second crew member from the SU-24 that was shot down by Turkish F16s on Tuesday is alive and well, and is back at Russia's airbase in Syria.
On Tuesday both crew members bailed out after their fighter-bomber was hit by an air-to-air missile, following what the Turks say was an incursion into their airspace. The Russians deny this. NATO has since said the incursion lasted just a few seconds, and has distanced itself from its NATO member's actions, saying it is a matter between Ankara and Moscow.
Turkmen anti-Assad rebels in the area, who just hours previously had been bombarded from the air by the Russians, then claimed to have shot both of them as they parachuted to the ground, and that they had their bodies.
One crew member was confirmed killed on Tuesday, along with one member of a Russian rescue helicopter crew that was sent to look for the two men after it was forced to make an emergency landing after rebels claimed to have hit it with an anti-tank missile. The helicopter was later filmed being destroyed.