Questions raised after pro-Kurdish lawyer shot dead in southern Turkey
Comments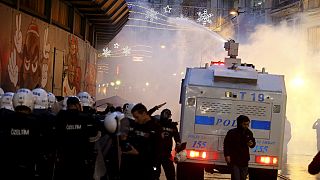 Questions are being asked about whether or not a top pro-Kurdish lawyer who died during a shootout in Turkey's troubled south east was caught in crossfire or deliberately targeted .
Tahir Elci was shot shortly after making a speech appealing for peace in the region.
Eyewitnesses say he was killed by a single bullet. An initial forensic report appears to back this up.
Local media reports the fatal shot was fired into the back of his neck, from long range.
However, Prime Minister Ahmet Davutoglu said he may have been caught in crossfire as attackers clashed with security forces in the town of Sur, in the mainly-Kurdish region of Diyarbakir.
Elci was facing trial for saying that the banned Kurdistan Workers Party – or PKK – is not a terrorist organisation.
The pro-Kurdish HDP Party is calling the shooting a "planned assassination" and urged people to protest.
Demonstrations have taken place across Turkey. In Ankara, lawyers took to the streets to denounce the killing:
"As members of the Democratic Law Platform we came here to protest the murder of our colleague, human rights activist and head of the Diyarbakir bar association, Tahir Elci," said fellow lawyer, Pinar Akdemir.
"It is a fact that this period we are going through is worse than the 1990s, especially when you look at what Tahir Elci went through. The treatment he received after sharing his thoughts in public has shown us who the real murderers are."
Two policemen also died.
Davutoglu has vowed to bring the culprits to justice and Turkey's Interior Ministry says at least four investigators will work on the case.
Hundreds of people have been killed since a ceasefire between the banned Kurdistan Workers Party – or PKK – and Turkish security forces collapsed in July.