Tension in Turkey after pro-Kurdish lawyer is shot dead
Comments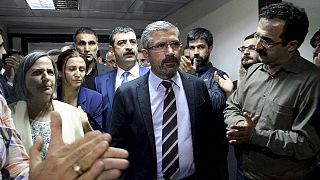 A prominent pro-Kurdish lawyer was killed on Saturday amid a street shootout in Turkey.
Early reports suggested that Tahir Elci was caught in the crossfire as attackers clashed with security forces in Diyarbakir, the largest city in Turkey's troubled mainly Kurdish southeast.
But witnesses said he was targeted by a single bullet just after making a public plea for peace about a historic minaret which had been damaged in clashes days before.
Initial indications are that Elci, hailed as a "courageous defender of human rights" by the US embassy, was shot at from a long range as he addressed the media on the streets of Diyarbakir.
(1/2) We are shocked by the tragic death of Tahir Elci - a courageous defender of human rights.

— US Embassy Turkey (@USEmbassyTurkey) 28 Novembre 2015
Amb Bass—Shocked, deeply saddened by murder of Tahir Elçi. A champion for all seeking a future where citizens can live in peace & dignity

— US Embassy Turkey (@USEmbassyTurkey) 28 Novembre 2015
Two policeman were also killed in the ensuing exchange of fire.
Elci, head of the local Bar Association, was facing trial for saying that the banned Kurdistan Workers Party or PKK is not a terrorist organisation.
The pro-Kurdish HDP party, whose leader Selahattin Demirtas visited the morgue, called Elci's death a "planned assassination".
Top Kurdish lawyer shot dead during press conference in Turkey https://t.co/D76pJeAf0xpic.twitter.com/RyRlZckduA

— Huffington Post (@HuffingtonPost) 28 Novembre 2015
Hundreds of people have been killed since a ceasefire between the PKK and Turkish security forces collapsed in July.
Turkish Prime Minister Ahmet Davutoglu said it was unclear whether Elci was caught in crossfire or assassinated.
President Recep Tayyip Erdogan expressed his condolences to the lawyer and police victims and said:
"This incident shows Turkey was right in its fight against terrorism. Our fight against terrorism will continue until the end."
As news of Elci's death spread, anger erupted on the streets of Istanbul amid claims by some that this was a political murder.
"You won't be able to kill us all' was the cry of some demonstrators as hundreds of people marched.
Water cannon and tear gas were used to disperse the crowd.