Over 100 arrests made as Paris scuffles precede COP21 climate forum
Comments
By
Euronews
with
United Nations, Reuters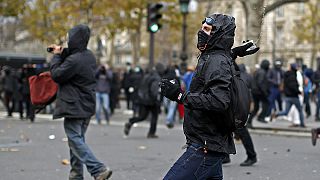 French police say they have arrested at least 100 people following scuffles in the centre of Paris.
Some 10,000 people gathered to form a three-kilometre human chain through the city along the route of a cancelled march against climate change.
Although the event was mostly peaceful, clashes erupted in Place de la République between some 200 people and the police shortly afterwards.
Demonstrations in the capital have been temporarily banned under the nationwide state of emergency declared following the deadly Paris attacks on November 13.
Police say 24 activists suspected of planning violent protests have been placed under house arrest in accordance with the state of emergency rules.
Earlier on Sunday (November 29), tens of thousands of pairs of shoes were laid out on the same square to represent those who had planned to join the march.
COP21
The rally was planned to coincide with the eve of the United Nations' COP 21 climate change conference.
Its aim is to find a mechanism to limit average global temperature increases to two degrees Celsius above pre-industrial levels.
In total 152 heads of state and government are due to attend the Paris forum, just over two weeks after terrorist attacks killed 130 people in the capital.
For some, the first order of business on arrival was to visit the Bataclan concert venue, where the greatest loss of life occurred, to pay tribute to those who died.