Campaigners vow to defy protest ban on eve of Paris climate summit
Comments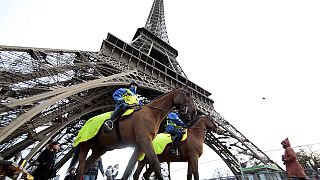 Security is tight at the Le Bourget conference centre near Paris, on the eve of the COP21 international climate summit.
French Foreign Minister Laurent Fabius says almost all governments have outlined plans for fighting global warming beyond 2020.
That is seen as a positive sign for resolving a string of obstacles at the summit.
Meanwhile, climate change campaigners are vowing to gather on Sunday in central Paris, at the Place de la Republique.
This, despite a ban on big demonstrations, brought in after the deadly attacks in the French capital.
"We're organising a human chain to help people take charge of their future, in the same place where our march was banned," said Txetx Etcheverry, a climate change activist.
"Our message is that we won't give up."
It is hoped the summit will end in a deal which shifts countries away from a rising dependence on fossil fuels to more cleaner energies – such as wind and solar power.
Current plans put the world on track for a warming of up to 3.5 degrees Celsius by the year 2100.