Islamist rebel group claims responsibility for deadly attack on UN base in northern Mali
Comments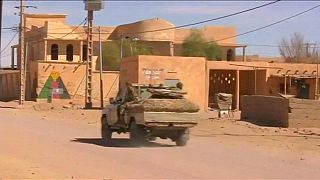 The Malian Islamist rebel group Ansar Dine has reportedly claimed responsibility for a deadly attack on a UN peacekeeping base in northern Mali.
Rockets were fired at the camp, killing three people inside. The victims have been identified as two Guinean peacekeepers and a contractor from Burkina Faso.
Saturday's assault, in Kidal, came eight days after Islamist militants killed 20 people in an attack on a hotel in the capital Bamako.
French troops and a UN force are struggling to stabilise the former French colony amid an Islamist insurgency.
A security source in northern Mali, who wanted to remain anonymous, said the Kidal camp had received a warning two days before the attack from an unnamed jihadist group.
The north of the country was taken over by Islamist fighters, some with links to al-Qaeda, for most of 2012. They were driven out by a French-led military operation a year later, but violence has continued and spread into formerly safe areas in the south.