'Don't bomb Syria' say demonstrators in London and Madrid
Comments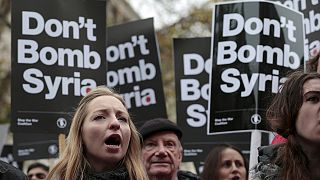 Anti-war activists took to the streets of London on Saturday as Britain weighs up whether to take military action against ISIL in Syria.
Demonstrators reject any extension of UK airstrikes – already underway in Iraq.
But David Cameron's conservative government is hoping for a green light from MPs as early as next week.
"We are very much opposed to David Cameron's plan to have a vote in parliament to bomb Syria," said Lindsey German of the Stop the War Coalition.
"The bombing has already been going on for more than a year by other forces. At the moment Syria is being bombed by the two biggest military powers in the world – the United States and Russia."
It is a tense time for Labour opposition leader Jeremy Corbyn.
For while the veteran left-winger is personally opposed to airstrikes in Syria, his parliamentary party is deeply divided.
Reports suggest that some of his colleagues are ready to resign if they are forced to vote against bombing.
Others are said to want Corbyn himself to quit over the issue.
.@LabourParty MPs call for Jeremy Corbyn's resignation over Syria air strikes vote row https://t.co/LUEfL4znkrpic.twitter.com/vLheEOyhnK

— Scotsman (@TheScotsman) 28 Novembre 2015
While Spain has no immediate plans to get involved, pacifist protesters in Madrid also rallied on Saturday, determined to have their say, with less than a month to go before the country's general election.
"I am here because I don't like war and I think violence generates violence," said Maria Munoz, a resident of the Spanish capital.
"I don't think violence is the way to solve problems."
What to do – or not to do – in Syria is a question that has gained urgency across Europe in the wake of this month's terror attacks in Paris which ISIL said it carried out.