Climate change campaigners pile pressure on world leaders ahead of Paris conference
Comments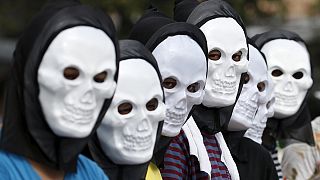 Pressure is mounting on world leaders ahead of Monday's international climate change conference in Paris.
Demonstrators took to the streets of Manila, in the Philippines, on Saturday to call for action.
Greenpeace says the country is an example of the impact of climate change, manifested in changing weather patterns and intensifying storms. It was not prepared for the onslaught of Typhoon Haiyan in 2013, which killed more than 6,000 people and affected more than 14.5 million across 44 provinces.
Dozens of other events are planned around the globe this weekend to raise awareness of climate change issues.
Activists have also been marching in the Netherlands, where a court has ordered the government to achieve cuts in greenhouse gas emissions by 2020.
"I think finally now, because of the court case and because of much pressure, the government starts to speed it up a bit. But I think we should speed it up much more than we're doing right now," said Marjan Minnesma, Director of the Urgenda Foundation.
The aim of the COP21 conference is to find a legally binding mechanism to limit global temperature rises to two degrees Celsius.
The event takes place in the shadow of the recent Paris attacks. Extra police and army troops have been drafted in.