Ahead of COP21, climate-change activists prepare to march on London
Comments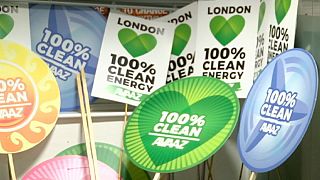 Activists in London are preparing for Sunday's (November 29) People's March for Climate, Justice and Jobs.
The rally in the English capital is scheduled to take place on the eve of the COP21 international climate change conference in Paris.
Its aim is to find a mechanism to limit global temperature increases to two degrees Celsius.
"We hold those politicians to account"
French President François Hollande has insisted the agreement reached at the conference must be legally-binding.
Neil Thorns is the Director of Advocacy at CAFOD, the official aid agency of the Catholic Church in England and Wales. He told euronews the Paris event is just one stage in a bigger plan.
"The march is gonna make a massive difference because it tells politicians that people want to take global action and they want to make sure that after Paris we hold those politicians to account for the decisions they make in Paris. And that's gonna be a crucial thing for us going forward. Paris is not the end point. It's just a staging point going forward to make a real positive action," he said.
London hopes to make its voice heard
The event takes place in the shadow of the recent Paris attacks. France is currently in a state of emergency and large public gatherings are at a minimum.
The Chair of Campaign against Climate Change, Suzanne Jeffrey, spoke to euronews about why activists think the London march is particularly important, in light of recent events.
"When the leaders meet, when the politicians meet, I think it's really important that we're on streets. It's really important that we make sure that they don't think they can make these decisions behind closed doors, in a vacuum. Especially so now that the protests in Paris have been banned. They may think that they can get away with making these decisions. We want to make sure that they cannot prioritise the interest of the fuel corporations over the interest of the planet and the people who live on it."
It appears France's neighbours across the Channel want to make enough noise for both countries, as our London correspondent, Ali Kheradpir reports:
"It seems Londoners want to compensate for the absence of demonstrations in Paris by making their rally as big as possible. Activists expect the People's March for Climate, Justice and Jobs to be the biggest climate protest ever held in the UK," he said.