World Bank looks for backers for $16B plan for Africa to adapt to climate change
Comments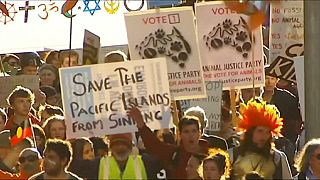 The World Bank has announced it is calling for some 15 billion euros to pay for a "plan":
http://www.worldfinance.com/home/world-bank-sets-out-16bn-africa-climate-business-plan for Africa to fight climate change.
It includes teaching farmers about efficient techniques and hardier crops, improving water management, reducing coastal erosion, strengthening flood protection, and restoring degraded land.
"It will be an opportunity to move to a growth path which is based on smart agriculture, on climate resilient landscape, on forest management, on coastal zone management and which will support ocean economies," said World Bank Vice President for Africa Makhtar Diop.
Wetland and forest rejuvenation feature high on the list and the accent is being put on adaption to harsher conditions, as change is now thought inevitable for the more fragile ecosystems.
Paris's climate summit is now just days away and environmental protesters are trying to raise awareness.
Melbourne kicked off a series of big global marches in major cities that will lead up to and bookend the summit, which starts on Monday and lasts until December 11.