Aksel Lund Svindal shines in Lake Louise
Comments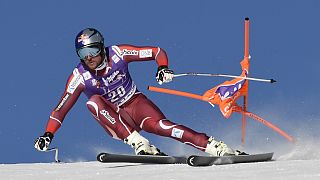 Olympic and World Champion Aksel Lund Svindal kept his composure to prevent Italian rival Peter Fill from sealing his second Alpine Skiing World Cup win in Lake Louise on Saturday.
The 32-year-old Norwegian, who became the first male alpine racer to win titles in four consecutive world championships after triumphing in Schladming two years ago, was able to keep pace with Fill at the top of the 3,103 metre course before pipping the long-time leader in the last stretch.
Svindal stopped the clock at one minute 47.29 seconds to take the win ahead of Fill while Travis Ganong had to settle for third place, 0.36 seconds further back.
The Men's Alpine Skiing World Cup will continue on Sunday with the super-G.