Outspoken Canadian beauty queen denied transfer flight to China for Miss World
Comments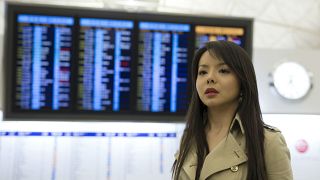 Anastasia Lin, Miss Canada's Chinese-born Miss World contestant, was stopped in Hong Kong and denied permission to board a flight to the beauty pageant finals in China.
The 25-year-old actress and student claims it is punishment for speaking out against human rights abuses in the country. She told reporters at Hong Kong's international airport that she was prevented from boarding a Dragonair flight to Sanya, on the southern Chinese resort island of Hainan.
Lin is a practitioner of Falun Gong, a spiritual and religious group that says it is repressed in China; the group emphasises morality and the cultivation of virtue, with Buddhist and Taoist traditions. She was unable to obtain a visa in advance of her arrival for the contest finals this week, but said she attempted to enter the country based on a rule that allows Canadian citizens to obtain a landing visa upon arrival on the island. So far there has been no response from the Chinese authorities.
"There's no comment from the Chinese embassy … so I realise that's the tactics they're using, they just want to let it die down," said Lin. "It's very difficult to stand up for what you believe in," she said. "I need to figure out what to do next."
In July, Lin testified at a U.S. congressional hearing on religious persecution in China. In her testimony she said she wanted to "speak for those in China that are beaten, burned and electrocuted for holding to their beliefs".
Lin recently claimed that after she won Miss World Canada in May, Chinese security agents visited her father where he lives in Hunan province, in an apparent attempt to intimidate. When asked about Lin's case, a Chinese Foreign Ministry spokesman said he had "no information to provide". The Chinese Embassy in Ottawa, Canada, said that Lin was not welcome in China, a Canadian newspaper reported. "China does not allow any persona non grata to come to China," Yundong Yang, an embassy spokesman, told the Globe and Mail. "I simply do not understand why some people pay special attention to this matter and have raised it repeatedly."
"If they start to censor beauty pageants how pathetic is that?" Lin told the Associated Press in Hong Kong. She also posted about her predicament on her Twitter account, using the hashtag #AfraidOfABeautyQueen.
I'm in Hong Kong, but the Chinese government has barred me from getting the next flight to Sanya for Miss World. #AfraidOfABeautyQueen

— Anastasia Lin (@AnastasiaLinTO) November 26, 2015
Miss World pageant organisers said in an email they had no information as to why a visa was not granted to Lin, but said she may be offered a place in the 2016 Miss World contest. Her photo has been removed from the contesants' page of the organisation's website.
- with Reuters