Tunisia tourists, presidential guards... safety of nation threatened
Comments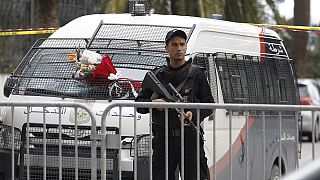 Immediately after the deadly bombing of his presidential guard in the heart of the capital on Tuesday (Nov. 24th), Tunisian President Beji Caid Essebsi imposed a national state of emergency. On Wednesday he extended it by thirty days, citing legal provisions and consultations with the prime minister and head of parliament.
In a televised speech, the president said: "We are at war and we are going to win."
He also declared an evening to morning curfew.
Only one month ago, exceptional security measures were lifted. Now Essebsi reinstated them.
Just days before his guards were attacked, he had been in Paris offering moral support after the Nov. 13th attacks there.
Paris, he recalled, had stood by Tunis when the Bardo National Museum in the Tunisian capital was attacked in March this year. Three terrorists with Kalashnikovs opened fire on tourists, killing 21 people, and wounding many more. The radical group ISIL said it was behind the attack.
Three months later, in June, at the tourist resort of Port El Kantaoui, near Sousse, a single gunman killed 38 mostly British tourists, also armed with a Kalashnikov. This was modern Tunisia's deadliest attack. ISIL claimed this one, too.
The gunman was a 23-year-old electrical engineering student who had known the Bardo museum killers. Like many Tunisians, he is thought to have chosen the path of radicalisation in the chaos of Libya.
This neighbour state undermines Tunisia's fragile democracy, the only country to have managed the transition from the Arab Spring uprising in 2011 with any success. And yet Tunisia's economy deteriorated, the lower and middle classes suffered, and disillusionment set in.
Tunisia is thought to be the biggest source of recruits joining the jihadists in Libya, Syria and Iraq. Some have threatened to carry out attacks at home. The army has also been fighting against Islamist militants in the mountains near the Algerian border.
The government says it is determined to finish a defensive barrier along 168 kilometres of its border with Libya by the end of this year. The project was launched after the Sousse killings.
In September, Tunis said intelligence pointed to possible car bombings in the capital. This month, authorities arrested 17 militants and said they had prevented another major assault, planned for November, again in Sousse.