ISIL claim suicide blast on Tunisia presidential guard bus
Comments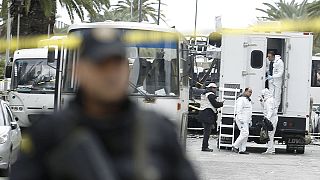 The group calling itself Islamic State, or ISIL, has claimed responsibility for a deadly explosion on board a bus carrying presidential guards in Tunis on Wednesday (November 25). Thirteen people were killed in the suicide attack.
Twelve of the dead have been identified, the thirteenth is thought to be the bomber.
In June, ISIL claimed a deadly attack outside a popular Tunisia hotel in the resort town of Sousse,as well as an attack in March on the capital's Bardo National Museum.
Tunisia's prime minister Habib Essid spoke to reporters after an emergency security meeting on Wednesday.
"I would also like to stress, however many times I must, that the war against terrorism is not only the responsibility of the government, the security forces, and the army, it is a national responsibility, and people must understand that our country is in danger and we have to be a united front," Essid said.
Tunisia has been working closely with US and UK security services as its emerged that 3,000 Tunisian nationals have joined jihadi groups fighting in Iraq and Syria.