Refugee numbers drop while obstacles multiply for some nationalities
Comments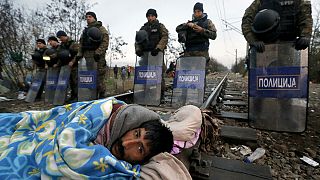 The number of refugees arriving in Greece has dropped dramatically, prompting some observers to suggest Turkey may have clamped down on people smugglers. The International Organisation for Migration says average daily arrivals this month were 4,500, but since Sunday there have been fewer than 200.
On the island of Lesbos, Patric Mansour, with the Norwegian Refugee Council, supporting the UNHCR, said: "They are not aware of the dangerous crossing. They think they are going to be in a safe boat and that the sea is going to be calm. There are a lot of refugees telling us that they are forced under gun threat to get on the boat after they have paid, to get on the boat and do the crossing, even if they are objecting it."
Several countries along the Balkan route to western Europe are now only allowing Syrians, Iraqis or Afghans through, stranding many others. The refugees who can press on.
At the snowy border between Austria and Germany, German police officer Rudolf Hoser said: "As of December 5th, there will be a new procedure. A winter hall is being built in Nebelberg, in Austria. From there, the migrants will be brought directly to Wegscheid by bus so that they can skip the walk across the border."
Germany counts on accommodating one million refugees by the end of the year, and anyone helping is constantly challenged to improvise. Every day or so, another gymnasium is transformed into a shelter.
Sweden is nearing 190,000 asylum applicants this year. Its population is less than ten million, so this means roughly one applicant for every 50 Swedes. Germany has 82 million people, looking at say one refugee for every 80 Germans.
Swedish premier Stefan Löfven, tightening border controls and asylum rules, said his country is overwhelmed: "Towns can no longer handle asylum seekers safely, the authorities can't cope. The Swedish Migration Board can't provide beds for people who come here. This is untenable. People must seek asylum in other EU countries."
The French prime minister has said: "We can't accommodate any more refugees in Europe."
Poland's new government is backing away from an EU quota of 7,000.
Meanwhile, migrants allowed no further that the Greek-Macedonian border are protesting they cannot be turned back.