Protesters pelt Turkish embassy in Moscow, call it the "Islamic State Embassy"
Comments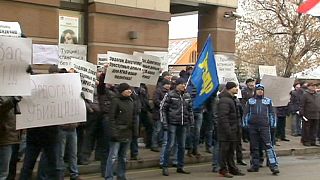 Itar-Tass reported some 900 people turned up outside the Turkish embassy on Wednesday to pelt it with eggs, tomatoes and stones in protests. The demonstration lasted some 15 minutes.
Agence France Presse also reported several hundred protesters, but agency pictures do not reflect these numbers. There were also conflicting reports about several arrests being made.
"This is the embassy of murderers, in my opinion, of people who instead of being honest and trusted partners, showed their beastly grin," said one man.
Placards included phrases like "Embassy of the Islamic State", and "Murderers". A number of windows were also reportedly smashed.
"Now Russia is put in a situation where, if it tolerates this spit in the face it will lose its authority and influence, but if it starts to retaliate everyone will be shouting that Russia is an aggressor, as they always do," said one man in nearby Red Square.
Public anger has been widespread, but the "latest opinion polls":
http://www.vox.com/2015/9/30/9426333/putin-syria-russia-problem?utm_campaign=vox&utm_content=article%3Afixed&utm_medium=social&utm_source=twitter show little support for the Russian
intervention in Syria, far weaker than the support shown for the intervention in Ukraine.