Paris attacker Abdelhamid Abaaoud 'returned to scene of shootings'
Comments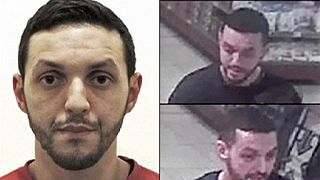 Paris attacks ringleader Abdelhamid Abaaoud appears to have returned to the scene of the Paris attacks later in the same evening.
Abaaoud and the man found by his side in the apartment had a plan to blow themselves up on Wednesday 18 or Thursday 19 November at la Defense.
Paris Prosecutor François Mollins says CCTV footage shows him leaving Nation metro station, near the scene of the café shootings, after they had happened.
The phone believed to have been used by Abaaoud was also detected near the Bataclan concert venue as police stormed the building.
France says it never received information that attack mastermind Abaaoud was in the country: https://t.co/NMEg7vlhh5pic.twitter.com/45bavnk2tj

— Reuters Top News (@Reuters) November 19, 2015
He died alongside an as-yet-unidentified man during a police raid on a flat in the Parisian suburb of Saint Denis.
Foiled attack on la Defense
Mollins said investigators believe the Abdelhamid and his accomplice planned to blow themselves up in the la Defence business district of Paris five or six days after the attacks.
"There are some elements on which I will not and cannot be more precise, which only came into being on November 19. They lead us to believe that Abaaoud and the man found by his side in the apartment, had a plan to blow themselves up on Wednesday 18 or Thursday 19 November at la Defense," he told press on Tuesday (November 24).
New suspect
It has been revealed that key suspect Salah Abdeslam was seen on CCTV at Paris Charles de Gaulle Airport three hours before the November 13 attacks, at 6pm Central European Time. A huge manhunt is underway for the former Brussels resident, who is believed to have fled back to Belgium.
News has also emerged of a further suspect. An international arrest warrant has been issued for Mohamed Abrini.
NEW: Belgian cops looking for 30yr old Mohamed Abrini, linked to #Paris fugitive, believed "armed and dangerous" pic.twitter.com/s3XSp8b883

— Brian Ross (@BrianRoss) November 24, 2015
Two days before the attacks, he was caught on CCTV at a service station on the A1 motorway, alongside suspect Salah Abdeslam.
Abrini was seen driving the Renault Clio which would later be used in the assaults on the French capital.
Authorities say he is believed to be "armed and dangerous."
'White Emir' arrested
Meanwhile, Olivier Corel, a radical preacher who was believed to have mentored young jihadists, has been arrested in south west France. The so-called White Emir was reportedly detained for the illegal possession of a Class D hunting gun.
Links of Salafist Olivier Corel aka The White Emir, currently receiving attention of 60 police etc in rural Ariège pic.twitter.com/8bK7yJd0JK

— A Libertarian Rebel (@A_Liberty_Rebel) November 24, 2015
'Fifth man' detained
A fifth man has been taken into custody in Belgium for "terrorist assasinations", according to the federal prosecutor.
Montrouge suspected suicide belt
A device resembling a suicide belt, was found in a bin in the southern Parisian suburb of Montrouge on November 23.
Dustmen made the discovery. It is now being analysed to "confirm whether it is explosive," according to a source close to the investigation.
Reports suggest there was no detonator attached.
Device 'resembling suicide belt' found in bin in Paris suburb https://t.co/oaKIIS88CA

— euronews (@euronews) November 23, 2015
Some figures
Ahead of Paris Prosecutor François Mollins' announcement to the press, France's Interior Minister Bernard Cazeneuve gave a summary of the situation since the nationwide state of emergency was announced.
- 1,233 searches have been carried out
- 165 arrests made (of which 145 have been placed into custody)
- 230 weapons seized (almost half of which were heavy weaponry or war weapons).
To date, 130 people have lost their lives as a result of the November 13 coordinated attacks on Paris. Of the 350 who were injured, 161 remain in hospital.