A dozen protesters are arrested over 'pornographic' play in Poland
Comments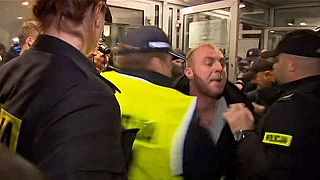 Twelve people have been arrested in Poland after trying to block the entrance to a theatre which was showing a play they deemed pornographic.
'Death and the Maiden' is based on a book by the Nobel Prize-winning Austrian writer Elfriede Jelinek .
Members of a Catholic organisation tried to stop people getting in, complaining about the cast which includes porn stars.
According to the theatre's website, the play revolves around various aspects of torture and the best ways to inflict it. In a special mention, the organisers highlighted, "…the production is suitable for REALLY adult audiences only and contains sex scenes".
The event has brought to light the rising influence of Poland's new conservative pro-Catholic government and the growing intolerance. Newly-appointed Culture Minister Piotr Glinski pointed out that the show is state-funded and has recommended that the play be cancelled.