Russian jets strike at 472 terrorist targets in Syria
Comments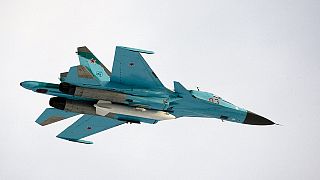 Russian Su-34 bombers have carried out 141 sorties in Syria in the last 48 hours. Defence Ministry spokesman General-Major Igor Konashenkov said the jets struck 472 terrorist targets.
They included an oil refinery 50 kilometres south of Raqqa understood to be controlled by the so-called Islamic state and one of the militant group's main financial sources.
The bombing missions also struck targets in Aleppo, Damascus, Idlib, Hama and Homs according to the ministry.
France's flagship aircraft carrier, Charles de Gaulle will shortly take part in air strikes against the IS group said the country's defence minister Jean-Yves Le Drian.
The carrier is already in waters off the Syrian coast. Flights from its decks will shorten the time it takes for French jets to carry out air strikes. The ship can hold up to 40 aircraft and support 100 flights a day.