UN tells world leaders to cooperate over ISIL
Comments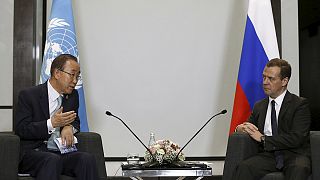 Meeting at the annual East Asian summit in Malaysia, world leaders have been urged to cooperate in rooting out terrorism.
Days after the Security Council unanimously adopted a French-table resolution condemning ISIL, UN Secretary General Ban ki-Moon has told Russia and the US he will unveil a comprehensive plan to fight extremism and violence early next year.
U.N. Sec. Gen. Ban urges Russia, U.S. to cooperate on terrorism https://t.co/bLMbJ3U38U

— Reuters World (@ReutersWorld) 22 Novembre 2015
Obama arrives for summit amid extraordinary security https://t.co/4sDq8zuBKCpic.twitter.com/nV0tssbg6N

— Reuters China (@ReutersChina) 20 Novembre 2015
Attending the summit, US President Barack Obama urged Moscow to redouble its efforts. "Destroying ISIL is not just a realistic goal, it is going to get done. It will be helpful if Russia directs its focus on ISIL. And I do think, as a consequence of ISIL claiming responsibility for bringing down the plane, there is an increasing awareness on the part of President Putin."
Russia intensifies action
The indications are that Russia is intensifying its campaign against ISIL.
President Vladimir Putin has told his military commanders that the campaign to date has not achieved enough and a new phase is needed.
Meeting with Defence Ministry heads on Russia's operations in #Syria

21 Novembre 2015
Russia this week launched air strikes against ISIL's de-facto capital of Raqqa in Syria.
It comes after Moscow confirmed the group was responsible for downing a plane carrying Russian tourists over Egypt in October.