Bangladesh hangs two opposition leaders for war crimes
Comments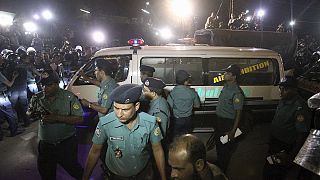 Two opposition leaders have been executed in Bangladesh for war crimes committed during the 1971 war of independence.
Ali Ahsan Mohammad Mujahid and Salauddin Quader Chowdhury were hanged shortly after the president rejected appeals for clemency.
The Supreme Court had already thrown out their appeals against the death sentence.
Mujahid was convicted of five charges, including torture and murder. Chowdhury was also found guilty of torture, along with genocide, religious persecution and abduction.
A crowd, led by veterans of the 1971 conflict, gathered outside the prison where the two men were hanged simultaneously.
Critics say the war crimes trials in Bangladesh are a tool of revenge and the real aims are to target the political opposition. The allegations are denied by the government.