Argentina: voters pick new president in landmark run-off election
Comments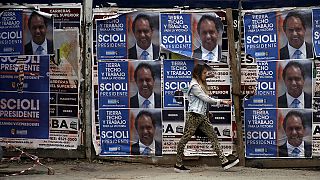 It is decision time in Argentina, with more than 30 million voters expected to head to the ballot box in the country's first ever presidential run-off election.
Centre-left candidate Daniel Scioli is going up against centre-right Mauricio Macri to replace Cristina Fernandez de Kirchner, who is not allowed to stand for a third term.
She has been revered by the poor for strengthening Argentina's social safety net and reviled by investors for saddling the economy with currency and trade controls.
Scioli, Fernandez's preferred successor, presents himself as the continuation of such policies.
Macri's vowed to maintain a safety net for the poor, but says he will also overhaul the economy.
He has been ahead in several polls, with an eight point lead. But those same polling companies predicted Scioli would win the first round by 10 percentage points. So it seems there is still everything to play for in this landmark run-off election.