UN urges members to take 'all necessary measures' to defeat ISIL
Comments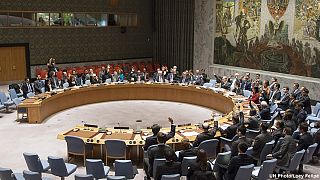 The United Nations is calling on member states to take "all necessary measures" to defeat the self-proclaimed Islamic State.
The Security Council has unanimously adopted a resolution, drafted by France after the attacks in Paris, claimed by ISIL.
All countries are being urged to join the fight against the militants in Syria and Iraq and to redouble efforts to prevent further attacks.
"Today we send a clear, unambiguous message that there will be no respite from our collective efforts to stop, suppress and destroy ISIL," said Matthew Rycroft, UK Ambassador to the United Nations, who also holds the rotating Security Council presidency.
"Whether in the streets of Paris or Beirut or in the skies above the Sinai, ISIL's brutality knows no bounds and respects no borders. ISIL's determination to carry out attacks around the world must be met by our greater resolve to defeat them wherever we find them."
It comes as France bolsters its military action against ISIL. Its aircraft carrier Charles de Gaulle has been deployed to the eastern Mediterranean. The French Ambassador to the UN says it will triple striking capabilities.