Brussels remains on high alert amid fears of Paris-style attack
Comments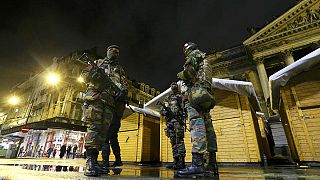 Brussels remains on the highest level of alert, amid fears that the horror of what happened in Paris could be repeated in the Belgian capital.
Soldiers are out in force on the streets and the city's metro system will stay shut until at least Sunday afternoon.
Salah Abdeslam, whose brother blew himself up in Paris, remains at large. He made it back home to Brussels the day after the attacks, despite being stopped by police en-route.
Hamza Attou was reportedly with him at the time and was later arrested. His lawyer has said that Salah was possibly carrying explosives and was ready to blow himself up.
People in Brussels are being advised to avoid crowded areas. Shops and restaurants have been closing early and events are being cancelled.
"It's good, it's for the security of citizens. Especially considering the threat, which is real. It's a good thing," said one man in Brussels.
Another added: "We're doing the terrorists a favour. It's like 'look, everybody is at home, the shops are closed.' No, we have to go on living."
The Paris attacks are said to have been masterminded in Brussels. A city now at the heart of investigations and a city also now facing a terror threat of its own.