Russia says intensified air campaign is pounding ISIL targets in Syria
Comments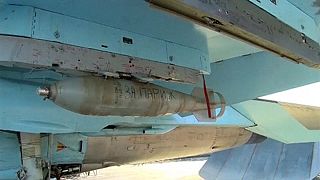 Russia says its air strikes in Syria are destroying ISIL's oil infrastructure. It comes as Moscow reveals that it has stepped up its military campaign, doubling the number of planes involved to almost 70.
It is claimed hundreds of targets have been hit in recent days and 600 militants were killed in just one strike.
One Russian missile being prepared for launch carried a message reading "that's for Paris," referring to the recent deadly attacks in the French capital.
Russia's defence minister says numerous oil and facilities and tankers controlled by the self-proclaimed Islamic State have been destroyed, cutting off a sizeable slice of income.
President Vladimir Putin has told military officials via a video link that there is still work to do.
"I want to thank all of you. But I want to stress that for now it is not enough to cleanse Syria of fighters and terrorists and to protect Russians from possible terrorist attacks," he said.
"We face a lot of work and I hope that the next phases will be conducted at the same high level, just as professionally."
Russia's planning naval drills in the Mediterranean for the next few days – with Lebanon's air traffic set to be disrupted.
Moscow intensified its military campaign after getting confirmation that a bomb brought down a Russian passenger jet in Egypt. ISIL has claimed responsibility for the disaster as well as the Paris attacks.