Brussels and Paris mount extra security measures
Comments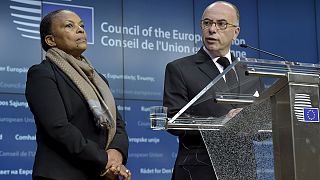 Belgian authorities have stepped up security across the country as the investigation continues into the Paris attacks.
Two of nine people arrested are still in custody as part of an inquiry into the departure to Syria of Belgium-based Bilal Hadfi, who blew himself up near the Stade de France last Friday.
Belgium deployed police and soldiers on the iconic Brussels Grand Place and searched visitors at the entrance of the square.
Authorities also cancelled a student gathering organised on Friday to replace an annual festive march through the capital city's streets known as Saint Verhaegen.
Security remains tight in Paris too. Defence Minister Jean Yves Le Drian met with French troops deployed across the capital.
Some 10,000 soldiers are being put on the streets to protect religious and cultural sites as well as heavily populated areas.