France's State of Emergency - What will it mean for the French?
Comments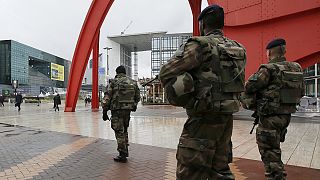 France has not seen such a nationwide deployment of security forces in living memory. And it is certainly only the beginning. Two days after the Paris attacks President François Hollande announced the 12-day State of Emergency would be extended to three months, which was confirmed in a parliamentary vote on Friday. It has also been extended to cover all of France's remaining overseas territories.
"I have decided that I will ask parliament to prepare a new law extending the state of emergency for three months, and adapting it to suit new technologies and new threats," said Hollande on Wednesday.
The State of Emergency law was created in 1955 at the height of France's colonial war in Algeria, and has hardly ever been resorted to since.
It was notably imposed in 2005, but only in several big cities, when mostly young people from poor suburbs rioted, and not for three months. In many parts of France it was barely noticed.
That is unlikely to be the case this time around. Already France's second city Lyon has cancelled one of the country's biggest open-air cultural events, the Festival of Light in early December. Paris has banned large-scale demonstrations at next month's international climate conference, COP 21, a decision that has already been criticised by activists and civil society groups.
Armed police and soldiers are patrolling intensively. Go to a shopping centre or take a train, and you will see them.
House arrests will be enforced against people suspected of being a threat, and more searches will be authorised. Where a softly, softly, approach to policing might have been adopted in the past, it will not be now.
Local state representatives, the Prefets, have extra powers. They will be allowed to impose curfews, ban people from staying in towns or cities if they are believed to want to "frustrate the actions of the state in any way", and provisionally close concert venues, bars and meeting halls. They will also be allowed to dissolve associations, organisations or groups deemed to "incite, facilitate, or participate in actions threatening public order."
However one part of the 1955 law imposing controls on the press and radio, which has never been used, has been dropped from the measure. Taking the law this far would probably have sparked a public outcry.
Travellers and tourists should also note that France intends to beef up its border identity checks which could lengthen check-in times for flyers and queues at customs, and is pushing for its EU partners to do the same. These checks will be especially strict on the EU's external borders outside the Schengen free travel zone, so British travellers could be among the worst-hit.