France's national assembly votes to extend state of emergency
Comments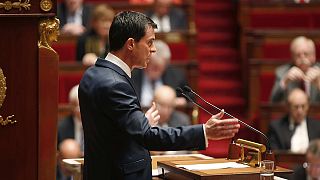 France's national assembly has heard a stark warning that the country could be targeted by chemical or biological weapons. It came as the lower house voted to extend the state of emergency for three months.
The French senate is expected to approve the extension on Friday after which it can go into effect.
"We can't exclude anything today, and I say this with all necessary caution, but we know, we keep in mind, that there could be the risk of chemical and biological weapons," said French Prime Minister Manuel Valls.
The state of emergency gives police extended powers to search and detain suspects. Officers will also be allowed to carry their weapons while off duty as long as they wear an armband to identify them.
In Paris police have extended their ban on gatherings until midnight on Sunday although they will be allowed at the sites attacked last Friday in which 129 people were killed.