Life goes on as Parisians refuse to let terror rule their lives
Comments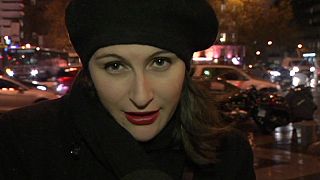 On a typical rainy night in Paris people went out to enjoy themselves at bars and restaurants – to watch a film or go to a concert.
It was the French at play, but although the recent terrorist atrocities were still raw in the memory, euronews reporter Faben Farge discovered a determination to live life the French way.
" I must carry on with a normal life," said one man who insisted that he would decide whether to go to a bar or not. "It was not up to terrorists."
One young women said ," We need to show that we do not change our habits, that we continue to enjoy culture, to take part on all the good things in life such as Art and Ballet."
Football too, and it was another part of French life which the terrorists had tried to attack on Friday. But last night (Nov 17) as the anthems rang out from television screens in bars all over Paris during the England – France friendly match, there was only one thing to do …. join in.
"To be honest I sing (the anthem) at all matches involving the French team, but tonight there was a special resonance after the tragic events that we've been through, " said one bar goer.
Reporter Fabien Farge said despite the tension and the rain the people of Paris carried on as normal, " They came to watch the football match, to sing the anthem together, to say that the France they love is this France that loves life forever, they came to win the match of Liberty. The liberty they want to be (to defend) here in France, in Paris and the entire world."