France intensifies airstrikes against ISIL, calls for "single coalition" to oppose them
Comments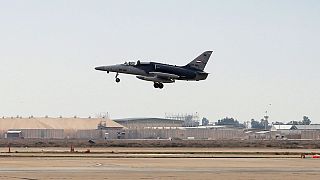 The French have continued overnight airstrikes on the so-called Islamic State main base, Raqqa, in Syria.
Since the Paris attacks last Friday, claimed by ISIL, France has reinforced its air presence over Syria, and has intensified its strikes on Raqqa and surrounding areas.
In the palace of Versailles on Monday President François Hollande made a rare appearance before both houses of parliament to deliver a call to arms.
[continues, below]
---
LIVE
UPDATES
---
"We all need a coming together of all those who can really fight against this army of terrorists in the form of a large and unique coalition, that's what we are working on. It's in this spirit that I will meet with President Obama and President Putin in the coming days to unite our forces and reach a result which has been put off for too long," he said.
The attack on France has pushed Paris closer to Moscow, something that some NATO allies and Ukraine have noted with dismay, but the Americans are making a very public display of support for France, with Secretary of State John Kerry visiting Paris in solidarity, and for talks.