Paris bombers identified, hunt intensifies for remaining suspect
Comments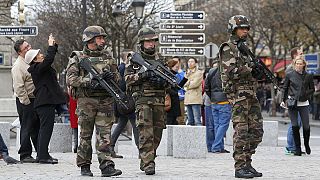 The French authorities have identified more of the suicide bombers involved in the wave of attacks on Paris on Friday evening, including one who passed through Greece posing as a refugee.
Five of the seven attackers killed have now been identified, but police are still searching for Salah Abdeslam, who they are linking to the attacks.
A French prosecutor said that fingerprints from one of the attackers matched those taken from a man who entered the EU on a boat from Turkey using a Syrian passport in the name of Ahmad al Mohammad.
Another bomber was named as Samy Ammour, a Paris resident who had been investigated under terrorism laws for trying to travel to Yemen. An international arrest warrant was issued for Amour in 2013.
French police have carried out dozens of overnight raids, while Belgian police are also involved in operations.
The Belgian authorities said on Monday that they believe the mastermind behind the attacks is a Belgian, Abdelhamid Abaaoud.
Meanwhile, French Prime Minister Manuel Valls spoke about the ongoing threat of terrorism in France and across Europe.
"We are showing, and we've been doing this for several months, not only our commitment to fighting terrorism, but to fighting all those who are linked to terrorism – radical Islam, Salafist groups, those who incite hatred against the Republic."
Valls continued: "We live and we will live for a long time with this terrorist threat and there's no doubt that we have to prepare for new attacks."