Belgium: two people detained on terror charges over Paris attacks
Comments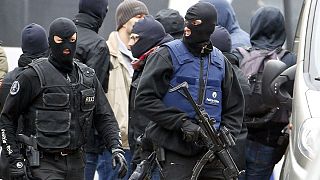 Two people have been detained in Belgium on terrorism charges related to Friday's attacks in Paris, Belgian prosecutors said on Monday.
The pair are facing charges of leading a terrorist attack and taking part in the activities of a terrorist organisation.
In France, 23 people have been arrested after more than 150 police searches took place on Sunday night and Monday morning in towns and cities across the country.
At least 129 people were killed in the French capital on Friday evening when gunmen and suicide bombers launched assaults at several locations, including outside a stadium and at bars and restaurants.
The Islamic State militant group claimed responsibility for the attacks.
An international search has been launched to find surviving suspected attacker, Salah Abdeslam, who is believed to have fled to his native Belgium.
Live updates

A Belgian national – named as Abdelhamid Abaaoud – is suspected of being behind the massacres, according to a source close to the French investigation.
"He appears to be the brains behind several planned attacks in Europe," the source told Reuters, adding that Abaaoud, was the investigators' best lead.
Euronews correspondents in Brussels captured images of an individual being detained in the Molenbeek district of the city today (16 November 2015)