G20: have Obama and Putin found common ground?
Comments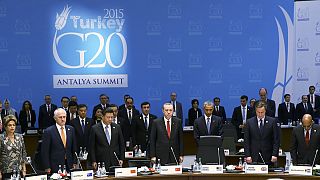 Global leaders stood in silence ahead of their first formal session at the G20 to pay tribute to those who lost their lives in Paris.
It was a sombre moment inside the main chamber at the summit venue in the Turkish resort of Belek near Ankara.
G20 Leaders' minute of silence for the victims of the deplorable terrorist attacks in Paris #G20AntalyaSummitpic.twitter.com/JZXLWarfKc

— G20 Turkey (@G20Turkey2015) November 15, 2015
The G20 focuses mainly on the global economy.
But this year's summit has been overshadowed by last Friday's events in the French capital in which scores were killed and injured.
G20 summit could end with deafening consensus on dealing with violent extremism and a faltering global economy https://t.co/ptdDgMba8i

— Newstalk ZB (@NewstalkZB) November 15, 2015
The focus has switched to the threat of extremism and its effect on domestic security and international migration.
German Chancellor Angela Merkel says French officials must work with the security forces and authorities to find out who the perpetrators are, who their accomplices are and what links they may have. "Above all, we owe that to the victims and their loved ones. But it is also necessary for our own security and something that we owe to the many innocent refugees who are fleeing war and terrorism."
Syria
At G20 summit, Obama targets ISIS in Syria https://t.co/XRUPP5owNGpic.twitter.com/iwGpIJpRFI

— Newsweek (@Newsweek) November 15, 2015
The situation in Syria is also driving the agenda.
Critics say Russian air strikes in the conflict-torn country target the political opposition and not IS as Moscow insists.
Obama, Putin agree on need for political transition, ceasefire in Syria – U.S. official https://t.co/MVLfNEgnQu

— Reuters India (@ReutersIndia) November 15, 2015
But, meeting on the sidelines, some say Obama and Putin are finding they have common ground.
The attacks in France – a close ally of the US – coupled with the downing of a Russian passenger jet over Egypt mean they are beginning to agree on the threat posed by Islamic State – the key to developing cooperation.