High security alert for G20 summit in Turkey
Comments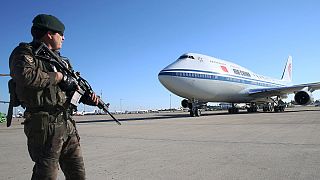 The weekend's events in Paris have overshadowed the G20 summit due to start on Sunday in the Turkish coastal resort of Antalya
.
Most world leaders will be there, including Chinese President Xi Jinping, but because of the attacks in his country French President Francois Hollande decided not to go, and France will instead be represented by the finance minister and foreign minister.
Top of the agenda will be global economic issues, but with the conference taking place just 500km from Syria and in the aftermath of the Paris attacks, world conflict will also up for discussion.
Security surrounding the meeting has been ramped up.
12,000 police and soldiers have been deployed and the Turkish military says around-the-clock air defences will be in place.