G20: what will be top of the agenda in Turkey?
Comments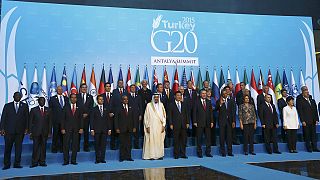 The G20 is underway in Turkey.
Representatives of the world's 20 richest economies are meeting in the resort of Belek.
G20 leaders unite on increasing border control, air security
https://t.co/oeELWrAo2z
#G20Turkey#G20AntalyaSummitpic.twitter.com/DhVed8ryfC

—

DAILY

SABAH

(@DailySabah) November 15, 2015
Hosted by Turkey, the leaders of the top 20 most developed countries meet in Antalya. #G20Turkey
https://t.co/4mt4wPyG15

— G20 Turkey (@G20Turkey2015) November 12, 2015
In the wake of Friday's attacks in Paris, the two-day gathering is likely to be dominated by talks on tackling extremism.
However, Francois Hollande will not be there to participate. The French president will stay in Paris as his country comes to terms with its worst loss of civilian life since the Second World War.
World leaders converge on G20 summit seeking political solution in Syria #auspolhttps://t.co/YlMorcpGYL

— Financial Review (@FinancialReview) November 15, 2015
Observers say there is likely to be fresh impetus to resolve the Syrian crisis and find a way of effectively managing migration globally and regionally.
Insiders say the G20 leaders have already agreed to tighten border controls and airline security in the wake of events in Paris.
A number of the most prominent G20 members have recently experienced attacks.
Russia has also been a victim in recent weeks. Vladimir Putin's involvement in Syria is likely to be discussed.
What is the G20?
A gathering of the world's 20 most-established and emerging economies, the G20 together the big global players like the US, UK, Russia and China. But it also means emerging economies like India and Brazil are also on the guest list.
Together, the G20 represents 85% of the world's wealth. This explains why there is so much interest in what is discussed.
After the extremist threat, all talk is of the three "i"s; inclusiveness, implementation and investment.

In real terms, this means sharing the benefits of global growth, taking action and creating employment.

Will the G20 make any difference?

Some say that the global nature of the problems nations face mean some form of international coordination is necessary.

But there are others who see the G20 as nothing more than an expensive way of talking shop.

Draconian security

Like France, Turkey has also recently been a target for terrorists.

Security is extremely tight.