France 'at war' with Daesh, says PM Manuel Valls
Comments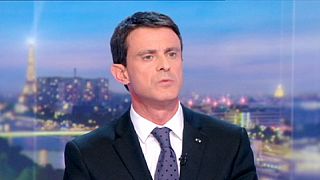 "War" – the word used by both French President François Hollande and his prime minister following the Paris terror attacks.
Speaking on French TV on Saturday night, Manuel Valls said several times that France was "at war" with "Daesh" – one of the names for the Islamic State extremists – which would be tackled in France and in Syria.
"So, we are at war, and because we are at war, we are taking exceptional measures. And we will act, and we will strike this enemy to destroy it – in France, of course, and in Europe, to pursue those who committed this act, but also in Syria and Iraq, and our response will be on the same level as this attack," Manuel Valls said during an interview on the main evening news programme on TF1 (in French).
Over the next few days three thousand extra soldiers are to be deployed in France mainly in the Paris region – where the first have arrived.
The state of emergency can remain in place for 12 days – whereupon it can be renewed by an act of parliament.