Paris security tightened after attacks
Comments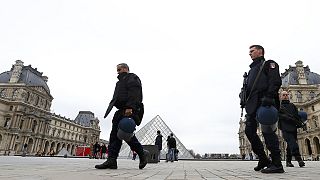 Security has been tightened around central Paris after the multiple, coordinated attacks of Friday 13 November.
Local sports events were cancelled, tourist attractions including the Eiffel Tower closed, along with department stores, schools, universities and municipal buildings.
The rock bands U2 and Coldplay have cancelled concerts and radio stations urged locals to stay at home.
There was a distinct lack of visitors.
"I think that the tourists who were here this morning went to sleep at nine or ten yesterday evening," said a market owner. "There's nobody here. It's terrible. No word. Usually it's full of people, but now there's nobody."
Trocadero Place, usually bustling with tourists enjoying one of the best views of the Eiffel Tower, was all but deserted.
"I remember the Algerian war," said one woman. "I can say that what we're facing now is not a war, it's a guerilla. And it's terrible to fight terrorism."
"We are afraid but we need to keep going, so I'm going out with the kids," said another. "We can't go to tourist places but we keep going and face this free violence."
French president Francois Hollande declared a national state of emergency, the first since World War II, and announced three days of mourning.
Euronews reporter Valerie
reported from Paris
"According to French law, the state of emergency can last 12 days and may be extended by a parliamentary vote. But the atmosphere that is weighing heavily on Paris and in the hearts of Parisians feels like it is here to stay."