French state of emergency explained
Comments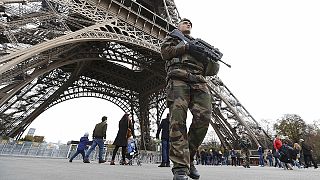 France is in a state of emergency.
It's the first time since 2005 that the government has taken such drastic measures within its own borders. Prior to that we'd have to go back to 1984 when an emergency law was imposed by Paris on the French overseas territory of New Caledonia.
But what does it actually mean for those living or visiting France?
To start with, extra security has been deployed onto the streets of the Paris region.
Authorities can arrest suspects of what is deemed "dangerous behaviour", seize weapons and carry out searches.
Public places can be shut, curfews can be imposed and restrictions of traffic and people are permitted.
All borders were immediately closed following the attacks and controls have been put in place effectively suspending the Schengen agreement in France.
French law permits the government to impose a state of emergency for 12 days. In order to extend it, a law needs to be approved by parliament.