Surge in violence in Burundi raises concerns at UN Security Council and the European Union
Comments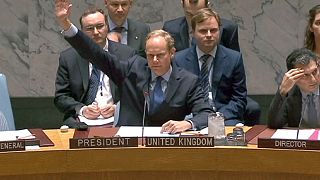 Concern over spiralling violence in Burundi has led the European Union to announce it is temporarily making a small reduction in staff and pulling out foreign family members.
The move comes in the wake of the United Nations Security Council unanimously adopting a resolution strongly condemning increasing killings, torture and human rights violations in the country. There is the threat of possible action.
"We know that in the worse case what we are talking about is a possible genocide and we know that we have to do everything that we possibly can to prevent that, and the Secretary -General and the United Nations have a very significant set of potential tools, of measures that they can use ranging from sanctions, political, peacekeeping," Matthew Rycroft UK ambassador to the United Nations told reporters.
The East Africa nation emerged from an ethnically charged civil war in 2005 that left 300,000 dead.
The latest surge of violence in which scores have died and thousands fled comes after President Pierre Nkurunziza won a third term in a disputed election in July.
The Peace and Security Department of the Africa Union has met to discuss the situation while media sources report Belgium's foreign ministry has advised its citizens to leave the country.