Owners of Brazil mine fined more than 60m dollars over burst dams
Comments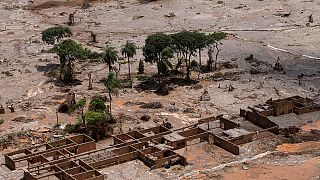 Brazil has imposed fines amounting to over sixty million dollars over two burst dams that resulted in at least deaths and twenty injuries on November 5.
President Dilma Roussef flew over the disaster on Thursday to see the damage for herself.
Federal authorities have announced plans to work with state prosecutors to investigate any possible crimes by the owners that could have contributed to the events.
Sixty million cubic metres of sludge and mining waste flooded on to nearby towns in the state of Minas Gerais.
It's thought the death toll will rise in the coming days.
Up to 500 people were displaced as their homes were destroyed.
The mine is joint owned by multi-national conglomerates BHP and Vale, two of the world's biggest mining companies.