Funerals begin in Beirut as Lebanon's politicians appeal for unity
Comments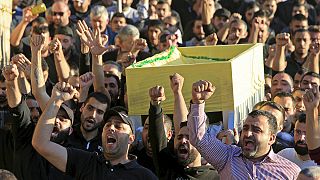 The funerals have begun in Beirut of the 44 victims of Thursday's bombing in a busy neighbourhood loyal to Hezbollah.
November 13, 2015 | Beirut, Lebanon. Local residents in Dahieh tape funeral and death announcements… https://t.co/UH8uMkQX6D

— Ayman Mohyeldin (@AymanM) November 13, 2015
#ISIL claims responsibility for deadly twin #explosions in #Beiruthttps://t.co/X4flJOMzwT
#IslamicState#terrorismpic.twitter.com/ugARkKjFGB

— Sputnik (@SputnikInt) November 13, 2015
The group calling itself Islamic State says it was behind the atrocity.
More than 200 people were injured, making it the worst attack in Lebanon since the end of the country's bloody civil war.
The political reaction
Hezbollah politician Ali Mokdad says the message is clear: "Everyone in Beirut and across Lebanon will fight these jihadis at all costs."
Tali Hatoum is from the Amal Movelment. "The response lies in unity, in stopping the security threat and settling the instability the jihadis seek."
Lebanon's cabinet has also held an emergency session.
The challenge is to prevent the Syrian conflict from spreading.
Hezbollah are closely aligned with President Bashar al-Assad, who is battling ISIL.
International condemnation
#UNSG Ban Ki-moon condemns attack in Beirut; extends condolences to victims families, people&Government of #Lebanonhttps://t.co/4wHdZhwf4f

— UN Political Affairs (@UN_DPA) November 12, 2015
Our deepest condolences to the Lebanese government and to the families of the victims of the horrific attack. #Lebanon#لبنان

— Mission of Jordan (@JordanUN_NY) November 12, 2015
Investigation continues at the scene of the blast
There is a heavy security presence around the site of the blast.
The area is still littered with debris, damaged vehicles and shattered glass.