Jordanian police academy killer on a journey to 'paradise or hell'
Comments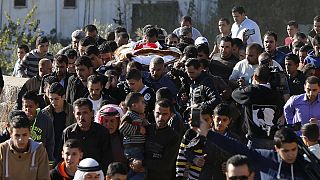 Thousands of mourners have attended the funeral of a Jordanian police captain who shot dead five people at police training centre.
Two of the victims were American instructors and the throng chanted "death to America, death to Israel," as he was laid to rest.
Anwar Abu Zeid embarked on the killing spree during his lunch break at the King Abdullah Training Centre near Amman on Monday.

Abu Zeid sent a message that he was going to "paradise or hell", before shooting up a military training base #Jordanhttps://t.co/ARmerSHlrW

— Bethan Staton (@bthsts) November 12, 2015
He burst into the canteen shooting and shouting Allahu Akbar.
A South African and two Jordanians were also killed, seven others wounded.
Authorities searching for a motive say he messaged friends saying he was going on a journey to "paradise or hell."
He was shot dead by a police sniper.