ISIL claims responsibility for bloody Beirut bomb blasts
Comments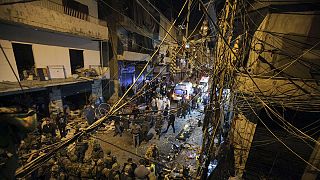 ISIL has claimed responsibility for the deadly double bomb attack in Beirut.
At least 43 people have been killed and more than 200 injured in the blasts.
37 dead, 181 wounded by 2 suicide bombs in Beirut suburbs, Hezbollah stronghold https://t.co/jkLRdFD2aHpic.twitter.com/Rr2zWfCEyc@haaretzcom

— Christian Thiels (@ThielsChristian) November 12, 2015
The attacks took place in a southern suburb of the city, a stronghold of the Shi'ite Hezbollah movement.
ISIL claim a bomb was concealed in a motorbike parked in the area, which was the first to explode.

ISIL claims responsibility for two suicide bombings that killed at least 41 people in Beirut pic.twitter.com/IXhTs3O8dW

— Al Mamun (@almamun00924) November 12, 2015
The second bomber detonated his suicide vest in the chaos following the first explosion.
A third bomber was found dead at the scene, his vest having failed to explode.
The first bomb blew up near a bakery shortly after evening prayers, the second 50 metres away.
Scores of injured are being treated in the city's hospitals.
The area has been the target of a number of bomb attacks since Hezbollah joined the war in Syria alongside forces loyal to President Bashar al-Assad.
Lebanese authorities have declared Friday a day of mourning.