Beirut blasts: Suicide attackers kill and injure dozens in Hezbollah stronghold
Comments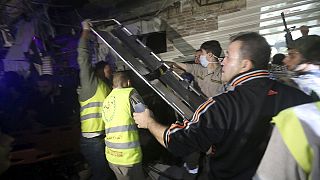 At least 37 people were killed and 180 are injured after twin suicide blasts on Thursday in the Lebanese capital, Beirut.
The almost simultaneous explosions hit a southern suburb that is a stronghold of the Shi'te Muslim militant group Hezbollah.
Medics rushed to treat the wounded in the busy commercial and residential district of Borj al-Barajneh,
where two suicide bombers blew themselves up outside a shopping centre and a Shi'ite community centre.
A third would-be bomber is said to have been killed by one of the explosions.
The blasts are the first attacks for more than a year in a stronghold of Hezbollah.
The conflict in neighbouring Syria has spilled over into Lebanon, which is still rebuilding after its own 15-year civil war.
Hezbollah fighters are battling in Syria on the side of President Bashar al-Assad against Sunni insurgents including the so-called Islamic State.