Haitians protest against presidential poll results
Comments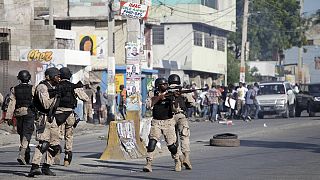 In Haiti, thousands of people have taken to the streets to protest against the preliminary results of the presidential election.
According to official figures, the ruling party candidate Jovenel Moise will face former government executive Jude Celestin in a run-off next month.
The pair headed a field of 54 candidates, some of whom have been levelling accusations of election fraud over the past two days.
Fourth placed presidential candidate Maryse Narcisse claims her Fanmi Lavalas party won, the party of the twice-overthrown president Jean-Bertrand Aristide.
At least one person has been killed during the unrest that erupted since the results were announced.
The outcome of legislative elections, also held last month, will be announced in the coming days according to officials.